2002 Ford Think Neighbor (8-14-02):
The purpose of this article is to share my experience with my new electric vehicle and to answer the most frequent questions I am asked. Yes people stop me to ask questions.
The Think is a new vehicle released for sale (locally) in Spring 2002, this is Ford's entry into the electric vehicle market. This Think is classified as a Neighborhood Electric Vehicle, which meets the Federal government requirements for low speed vehicles. This combines the benefits of economical electric transportation, no emissions and a safe comfortable ride. These vehicles are available in only 11 states, and Texas has only 4 dealers.
Why the Ford Think?

I traded my Kawasaki Mule (4 wheel ATV), for the Think because the police kept reminding me the Mule was not street legal. The Mule is similar size, weight and performance, but had room for only 2 passengers and is gasoline powered.
Frequently asked questions:
This Think is licensed and inspected in Texas (street legal)

Range, 30 miles on one battery charge

Top Speed limited to 25 miles per hour by law

Recharge the batteries overnight at any 110-volt outlet, for less than 50 cents.

Unlike a golf cart, the Think is street legal; yes you can use this as a golf cart, in Turf mode the top speed is 15mph.
What do I use this for?
Trips to the grocery store, post office, shopping trips to Sam's Wholesale and short trips in the neighborhood (on streets with 35 mile per hour limits). No freeway driving.
We are planning to "trailer" the Think to Galveston to tour the historical Strand district and the sea wall area. The San Luis hotel has adequate off street parking for it's guests, and my favorite view of the ocean.
Specifications for the 4-passenger model:
Curb weight 1,400 pounds

Overall length: 114 inches

Overall width: 57 inches

Overall height: 68 inches (mini van height)

Wheelbase: 78 inches
Cost: range, $6,500.00 for basic 2 passenger model to $9,500.00 for a loaded 4 passenger, included below are links to the Ford Think website to price one for yourself.
Optional accessories on this car (this is the basic model)
Maintenance free batteries, you never have to add water.

Wide turf tires (they look better than the narrow tires)
First Impressions
When I first saw the Ford Think, I thought, "this is the Cyclops" from cartoons that Stan Mott drew for Road and Track magazine, 40 years ago. Big windshield, large open space, bright colors.
My first "hands on" to drive a Think was when Jeff Kuhl from McRee Ford brought a couple of demo cars to the Electric Auto Association, club meeting on June 20, 2002. That night I was able to drive both the 2 passengers and 4-passenger model several times. Good seat position, good vision (you sit high enough to see and be seen in traffic), great steering wheel feel (rack & pinion), and surprising performance. The Think was easy to get in and out, with the grab handle in the right place. The three position seat belts hold you in the care securely. It drives and feels like a larger/heavier car. I had a positive first impression from my test drives that night.
This was my first time meeting with the EAA Club and the members of the EAA club didn't seem to notice I was monopolizing the test cars. Thanks to the EAA guys for letting me take many test drives. Here is the website for the Houston Electric Auto Association, www.bwsoft.com/eaa/
Also here is a picture of the 2002 Think and the 1960 Cyclops, do you agree they look alike?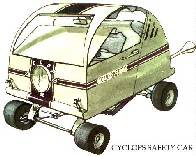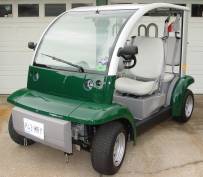 I went home and did my research, and subsequently purchased this car and took delivery on July 19, 2002.
Other Resources & Think Links:
For more information, go to the Ford Think website, obtain model information, options, pricing, take a virtual tour and request a brochure, you can also download the owner's manual in Adobe, pdf format. Download, print and read the owner's manual to get a good idea how the Think works before you take a test drive. www.thinkmobility.com
At this website you can also locate a "local" Ford dealer selling the Think.
To see and drive a Think, the Houston dealer is Jeff Kuhl at McRee Ford, 281-337-1529, email: jkuhl@mcreeford.com or call Jeff and ask to schedule a test drive. You can also check inventory, availability and prices at McRee at this website: www.mcreeford.com
Shop Manual, Helm sells the Ford authorized shop manual on CD ROM disk for $75.00 plus shipping. See: www.helminc.com - The files are in Adobe pdf format and can be viewed and printed on your computer. This is a first time for me to use an electronic shop manual, and I like it. I print out the pages I'm interested in, take the pages to the garage, and don't worry about getting the pages dirty, or returning the manual to the bookshelf.
My first driving Impressions
The first afternoon home with the Think I took my wife, brother in law and sister in law for a "drive" in the neighborhood. With four people aboard the Think had surprising performance, and it's quite. (You don't realize how much noise a gasoline powered vehicle makes until you drive an electric vehicle.) I drove around the neighborhood for about six to eight miles, until it got dark. Here is what we noticed, we were able to see and visit our neighbors. We would stop several times to visit with our neighbors, many we have not seen for a year. In cooler weather we see these neighbors when we "walk around the block" but in the July Houston weather it's too hot to walk. Getting this "face time" with my neighbors is hard to do driving my truck with the windows rolled up, air conditioner going full blast, and radio on.
The cornering ability of the Think is unbelievable. The independent suspension gives the ability to corner faster than I thought possible. The low center of gravity and weight of the batteries contribute to this stability.
I made the right choice to buy the four passenger model Think, because everyone wants to go for a test drive or catch a ride to the store with you. This is a great chance to make new friends.
One of the reasons for writing this article is to provide some information for people who stop me and ask "what is that? Is it a golf cart?"
Insurance, yes!
On Monday morning, I contacted my insurance agent to add the Think to my auto policy, and the agent had difficulty understanding what a Think was. Finally I emailed her a copy of the purchase invoice, which showed the VIN (vehicle identification number) and a picture of the Think. Two days later I received an insurance card to show coverage for the Think. I suspect the insurance agency needed to do their "homework" because it took two days to get the insurance card, in the past this was a one-hour turnaround.
Who is interested in the Think?
Who ask the most questions.

The over 50 year old, men are the ones who notice (and have interest in) the Think and stop me to ask questions. Of course the teenage boys and girls look and wave at me when I'm driving. The women in SUV's treat me as an annoyance, because they must slow down, and want me to get out of their way.
Federal Tax incentives available...
IRS Form 8834, Qualified Electric Vehicle Credit, will give you a TAX CREDIT of 7.5% (of the Think purchase price). This tax credit is available for individuals, on their 2002 income tax return. For more information see IRS Form 8834, and search the IRS website for "Qualified Electric Vehicle Credit."
For me this is a tax savings (credit) of over $600.00 (six hundred) dollars. Not confuse this tax credit with a tax deduction. A tax credit means $600.00 less taxes paid by me for 2002. I rationalized, "it's costing $600.00 less." However, I must wait to file the 2002 income tax return to "collect" the tax credit and offset the purchase price.
I intend to update this article with a longer-term evaluation, so be sure to bookmark this site, and check back later. This article is to provide you some immediate information and to answer your questions.
This article was written by Gus Hrncir, a team member of the Computer Build or Buy Group Network, and a frequent presenter at the weekly meetings. Please visit this website for some great computer technology, and join us for our weekly meetings (8-14-02).
Comments, please contact: Gus Hrncir, Contributing Technology Editor.